Why choose 3iSpreader?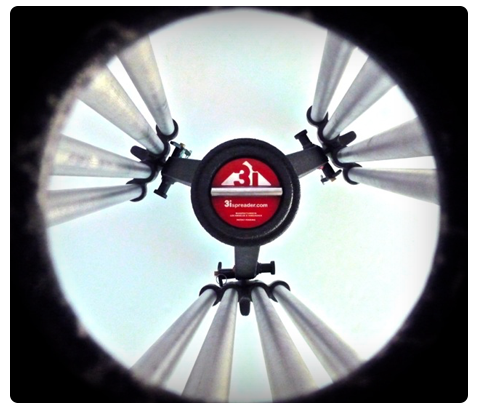 The 3iSpreader is a specific design for a specific product, fitting the world's most popular tubular metal tripod and solidly attaches to those legs in the most reliable connection ever.
The 3iSpreader finally solves the problems that conventional spreaders create. It securely connects the 3 feet of every standard Ronford tripod with 3 quick release T-pins.

No more bungee cord loops. It also introduces the 3iSpreader system by replacing the Ronford spikes with 3iSpuds that allow the tripod to rest on 3 rubber tipped feet and not on a floor level, metal spreader. No more spikes and no more scratches.
Why Would I need a new kind of Spreader?
The 3iSpreader system addresses three common, annoying and dangerous tripod/spreader problems and finally solves them :
Problem # 1 : SPIKES

They scratch, they are a non-standard size and they are an unwieldy shape. They wobble in crutch tips, they had to go, so we introduced the spike to spud adapter.
It slips onto the existing ronford spike and is locked in place with 3 recessed set screws. Now each leg of the tripod has a standard size foot that fits another standard size - a rugged 1" rubber chair tip that can be found at any hardware store ( and online). NOT a spongy crutch tip. This slides onto the 3iSpud snugly and is stable, skid-proof and scratch-proof.
Problem # 2 : BUNGEE CORDS

Until now, tripod spikes would balance in a tiny swiveling metal block at each end of three flat metal plates and were held in place with miniature fabric and rubber bungee cords. Not a mechanical connection, very sloppy and unreliable. Prone to stretching and unexpectedly detaching. They had to go … so we got rid of them.
Now, with no spikes and no bungees, how would we connect the tripod to the 3iSpreader ?
Simple: Use the 1/2" hole in the 'ear' or flange above the 3iSpud and slide in one spring loaded quick release T-pin per leg. Now the legs and spreader are solid. No more flex. No more floppy cords. No more dangerous disconnects and hazardous balancing acts.
Problem # 3 : Floor Contact

Three adjustable metal plates that slide on the floor just to hold three spikes require blankets, layout boards, camera carpets, location mats and a lot of caution to prevent scratching so … we got rid of them. No more floor contact. Just 3 rubber tips and a spreader that is off of the floor and above ground. No spikes…no bungees…no problems.


Click Here to Learn more about 3i Spreader history