3iSpreader History & Introduction
Let us introduce the 3iSpreader and how it began
The 3iSpreader is a specific design for a specific product. It fits the world's most popular tubular metal tripod and solidly attaches to those legs in the most reliable connection ever. The 3iSpreader is secure, dependable and foolproof while succeeding by creating an entirely new spreader system.

The early years of the 3iSpreader go back to the later years of the 20th century. Mark's 1st AC, Gary K. Ushino deserves credit for many things, expert focus puller, mentor to many young camera crew (including a very eager Matt Irwin) and the originator of the GKU spreader. Gary designed and built the earliest version of the spreader, and after receiving permission in the early 21st century to produce the current version, the 3iSpreader evolved into it's current design. We are proud to give credit to Gary, as one of the founding fathers of the 3iSpreader.




Check out the video below about the history of the 3iSpreader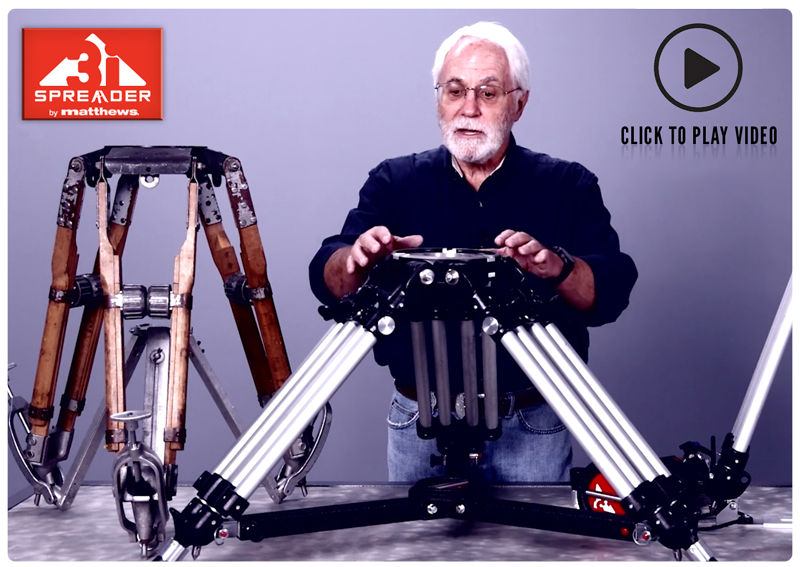 Introducing the Irwin's
What does 3i mean? The ' i ' stands for Irwin and the ' 3 ' represents the three guys named Irwin : Mark, Matt and Ray.
MARK IRWIN CSC/ASC
Mark Irwin was born in Toronto and found an interest in film at an early age , inspired by the Irwin camera that a distant relative made and marketed in the 1930s. He grew up as the AV geek in public and high school as well as at Waterloo University where ,after all of the years making home movies and projecting films in classes , he made the leap to a Political Science course examining Marshall McLuhan's ' The Medium is the Message'.

The York University Film Program was next and, graduating in 1973, he entered the bottom end of the non-union film business in Toronto working his way through porno movies, industrials, documentaries and low budget TV and films.

His break finally came on FAST COMPANY, the first of six films that he made with legendary director David Cronenberg. After shooting THE BROOD, SCANNERS, VIDEODROME, THE DEAD ZONE and THE FLY, Mark moved to Santa Barbara California and began working with directors like Wes Craven, Kevin Hooks, Todd Phillips and the Farrelly Bros. on films like SCREAM, PASSENGER 57, OLD SCHOOL and THERE'S SOMETHING ABOUT MARY.

He has shot over 160 films in Asia, Europe and North America and is a member of both the Canadian and American Society of Cinematographers as well as the Academy of Motion Picture Arts and Sciences.

www.markirwincscasc.com

CLICK HERE TO SEE MARK'S ENTIRE LIST OF FILM PROJECTS


MATT IRWIN
As a second generation cinematographer, Matt began life behind the camera when he was 8 years old. Under the guidance of his father and his crew, he worked as a camera trainee and camera assistant on 19 studio features before turning 20 and going to film school (Cal State Long Beach ) While studying ( and much more since graduating ) Matt has photographed on all formats ranging from mini DV to DSLR to RAW digital cinema to 16 mm & 35 mm film. He now lives in Toronto and is busy shooting features and tv series. Additionally, he also won a CSC Award for Best Documentary Long Format Cinematography in 2022.

With a background that includes work on both larger budget studio films and low budget indies as a gaffer, camera operator, focus puller and lighting technician - as well as a humbling real world education from some of the best film crews in the business - he brings an understanding of film making from the artistic, technical and logistical perspectives. www.matt.irwincine.com
RAY IRWIN
Ray Irwin was born in New Westminster BC and grew up in the Fraser River Valley in the city of Chilliwack. His work experience began in fluid power with 14 years helping engineers spec products for automated systems at companies like Wainbee Ltd., Skeans Engineering and SMC Pneumatics.

He then joined the steel / fabrication industry with aiding companies R&D and improving on existing designs and streamlining material costs. Ironside Design Manufacturing and Amix Steel have benefitted from his talents, especially currently at Amix in the Hi-Def CNC plasma cutting division.