Frequently Asked Questions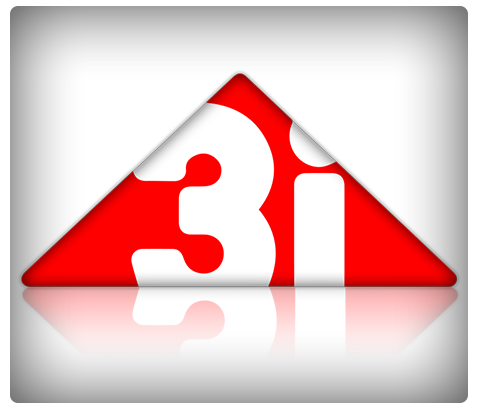 WHAT DOES 3i MEAN ?
The ' i ' stands for Irwin and the ' 3 ' represents the three guys named Irwin : Mark, Matt and Ray.

Ray Irwin is the metallurgist of the Irwin family with over 20 years in manufacturing, CNC ( Computer Numerical Control ) design and sales. He takes all of our 3-ideas and turns them into working metal and machinery.

Matt Irwin is a second generation Director of Photography with over 22 years in the business as a grip, gaffer, AC, operator and DP in Hollywood. He has worked on every kind of production from webisodes to high end features ( with 2 trips to South America thrown in). He is the digital member of the family and his perspective on the needs and complaints of camera crews keeps us up to date on listening, learning and responding.

Mark Irwin CSC/ASC started in the business in 1973 and for over 40 years he has shot more than 120 films in Asia, Europe and North America. These films have grossed over $ 1.5 billion worldwide to date and his work has won numerous awards. He is a member of both the American and Canadian Society of Cinematographers. He has bridged the gap between film and digital, has used almost every camera in both mediums and designs and custom builds lights, grip and camera rigs.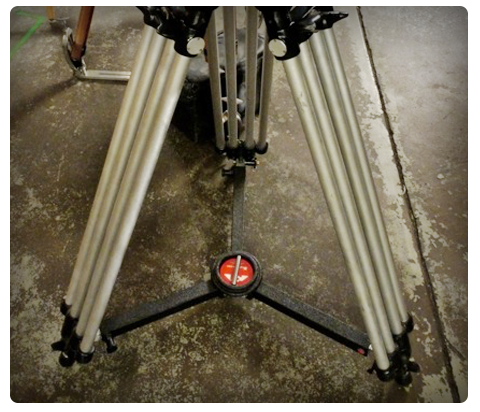 WHAT IS A 3iSPREADER ?
The 3iSpreader is a specific design for a specific product. It fits the world's most popular tubular metal tripod and solidly attaches to those legs in the most reliableconnection ever. The 3iSpreader is secure, dependable and foolproof and it succeeds by creating an entirely new spreader system.

The 3iSpreader is an adjustable, three legged connection device that holds the three feet of a tripod together so that the legs will fold up or down while remaining securely attached.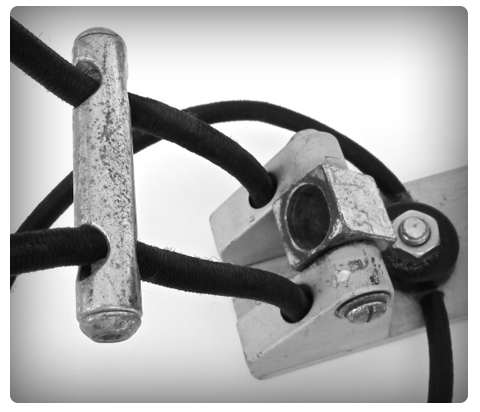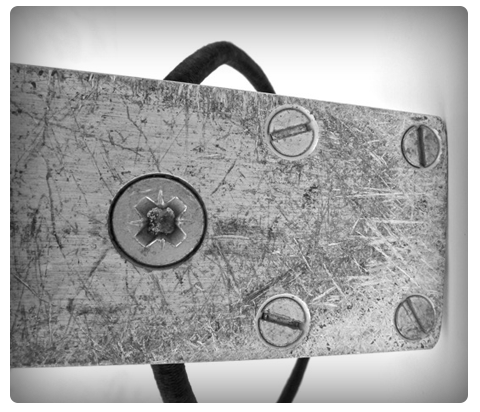 WHY WOULD I NEED A NEW KIND OF SPREADER ?
The 3iSpreader system addresses three common, annoying and dangerous tripod/spreader problems and finally solves them :
Problem # 1 : SPIKES
They scratch. They are a non-standard size. They are an unwieldy shape. They wobble in crutch tips. They had to go … so we got rid of them. Just unscrewed them and replaced them a custom made, 1" diameter, ridged aluminum tubular plug that we call the 3iSpud.
It fits into the exact same 5/16"-18 threads that held the spikes. Now each leg of the tripod has a standard size foot that fits another standard size - a rugged 1" rubber chair tip that can be found at any hardware store ( and online). NOT a spongy crutch tip. This slides onto the 3iSpud snugly and is stable, skid-proof and scratch-proof.
Problem # 2 : BUNGEE CORDS
Until now, tripod spikes would balance in a tiny swiveling metal block at each end of three flat metal plates and were held in place with miniature fabric and rubber bungee cords. Not a mechanical connection. Very sloppy and unreliable. Prone to stretching and unexpectedly detaching. They had to go … so we got rid of them.
Now, with no spikes and no bungees, how would we connect the tripod to the 3iSpreader ?
Simple :
Use the 1/2" hole in the 'ear' or flange above the 3iSpud and slide in one spring loaded quick release T-pin per leg. Now the legs and spreader are solid. No more flex. No more floppy cords. No more dangerous disconnects and hazardous balancing act.
Problem # 3 : FLOOR CONTACT
Three adjustable metal plates that slide on the floor just to hold three spikes require blankets, layout boards, camera carpets, location mats and a lot of caution to prevent scratching so … we got rid of them.No more floor contact. Just 3 rubber tips and a spreader that is off of the floor and above ground. No spikes … no bungees … no problems.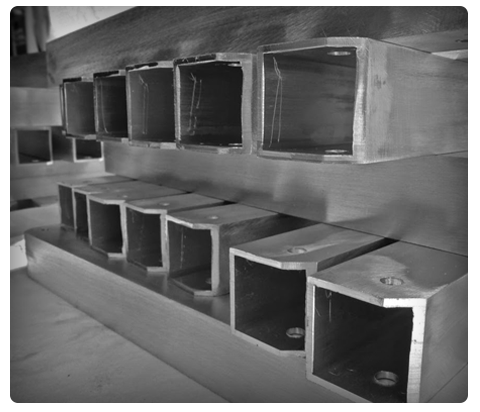 WHAT IS THE 3iSPREADER MADE OF ?
The 3i legs, the center pivot bracket ( puck ) and the 3iSpuds are made of aircraft grade 6061 aluminum. All of the bolts, handles and fittings are stainless steel, zinc plate, neoprene rubber or high impact plastic.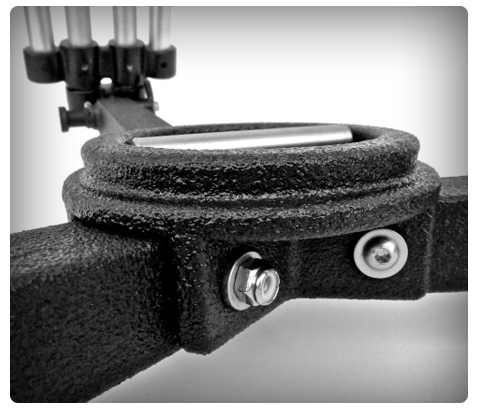 WHY IS IT BLACK AND PEBBLED ? IS IT COVERED IN TAR ?
The 3iSpreader is coated with an elastomer thermoplastic polyurethane by LINE-X. It is a spray that goes on hot, bonds with the grain of the aluminum and solidifies to an almost indestructible surface. It is black for a reason - no reflection - and is very easy to grip, wet or dry. No bare metal. Scratch resistant. No rust. No corrosion.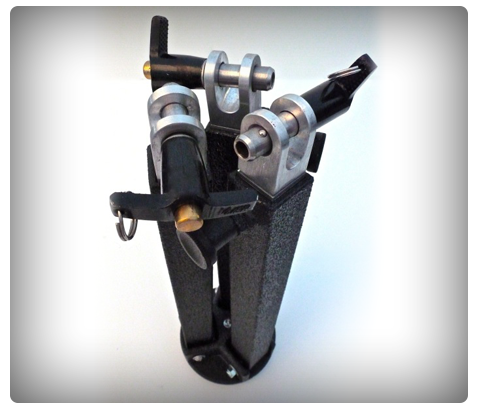 IS THE 3ISPREADER HEAVY?
The 3iSpreader weighs 5 lbs. ( 2.27 kg. ) Another popular foreign made spreader for the same type of tripod weighs 4 lbs. 7 oz. ( 2 kg. ). Comes with our custom carrying case for easy transport. .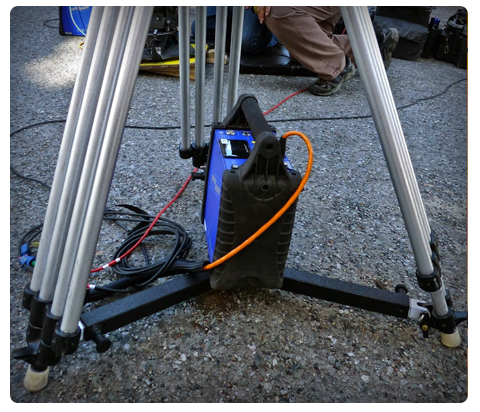 WILL IT STILL WORK ON CONCRETE OR DIRT WITHOUT SPIKES ?
BMX, dirt bikes, mountain bikes, quad runners , SUVs, the family sedan - they all have rubber tires ... not spiked wheels. And they are in motion on concrete, dirt, mud, snow, sand.

We have used the 3iSpreaders in the same conditions ( and much worse- swamps and pounding surf ) since 2011. Three solid rubber points. Sitting on the ground. No problems.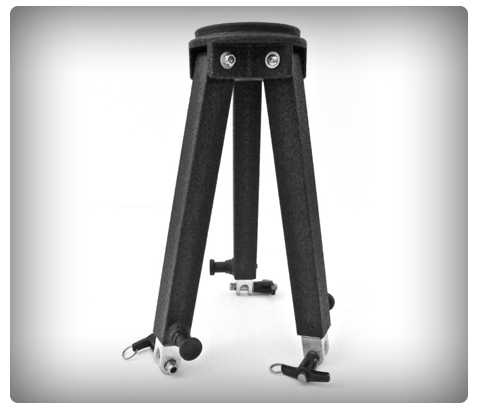 DOES IT FOLD UP EASILY ?
The 3iSpreader is engineered around a center pivot bracket ( puck ) that has a recessed T- handle in the middle. To fold the legs and spreader together, you can either lift up on that handle to collapse the 3iSpreader into the tripod as it straightens or kick up at the bottom of the puck and shoulder the sticks as they fold up. Either way, the 3iSpreader stays attached to the tripod and travels inside the sticks in a shipping tube or hanging on a cart.

The 3iSpreaders usually go on during prep and ( with the exception of maintenance ) stay on until wrap.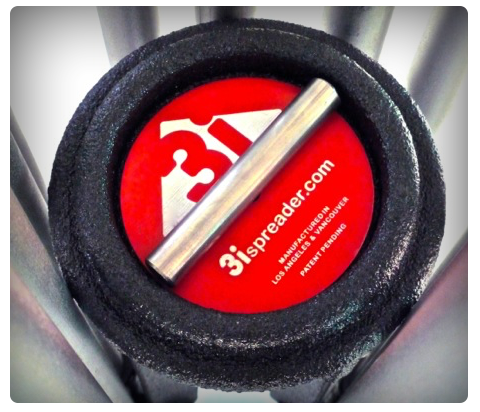 IS THE CENTER PUCK STRONG ?
The center puck assembly is CNC milled out of a solid billet of 6061 aluminum and will take the weight of most 24 volt block batteries ( up to 35-40 lbs or 15.9 - 18 kg. ) The recessed handle provides a level surface for any battery ( which then acts as a free sandbag ) and keeps it above ground as well ( above ice, snow, mud or water )
HOW DO I ADJUST THE LENGTH- THE SPREAD - OF THE 3iSPREADER ?
The 3iSpreader can expand from closed at 15 " ( 38 cm ) to fully extended at 28 " ( 71 cm ) by increments of 2 1/2 " (6.5 cm ). There are 5 holes in the inside leg ( it is the smaller, silver sleeve inside the black outer leg ) and to spread the legs, simply pull up on the black plastic button spring pin, slide the inner leg to the desired length ( or number of holes visible ) and let the pin plunger spring into that hole.

It locks in place at a calibrated distance and will not release itself. No more loose wing nuts and mismatched extensions.
CAN I SET THE LEGS TO DIFFERENT LENGTHS ?
The 3iSpreader allows for a mismatched extension for all three legs if needed ( like shooting in a tight corner or around immovable obstructions like fences or concrete walls ). The balance of the tripod must be reset by extending the tripod legs to the appropriate lengths. The 3iSpreader will stay locked at any offset configuration and will remain steady even if extended over an unsupported span ( like between steps or balcony levels ).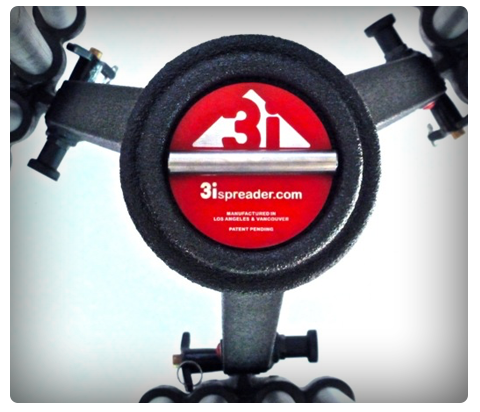 CAN I FOLD UP THE LEGS WITH THE SPREADER EXTENDED ?
If the legs of the 3iSpreader are extended to an equal length ( i.e . all three legs set to hole # 4 ) then you can fold up the tripod tight and the 3iSpreader will align itself inside the tripod. You can hang it on a cart or slide it into a shipping tube.

The Standards will fold up with the 3iSpreader fully extended ( 5 holes - max ) The Baby legs can only fold and travel with the 3iSpreader in the fully closed position.
WILL IT WORK UNDERWATER ?
The 3iSpreader has worked extensively in fresh water and in the ocean. It is always positively connected to the tripod and will not come loose. The rubber tips stay in place and help grip on slippery rocks. The strength of the legs - even extended - takes the weight of heavy sandbags very well so no more fumbling in the surf to locate and bag each tripod foot.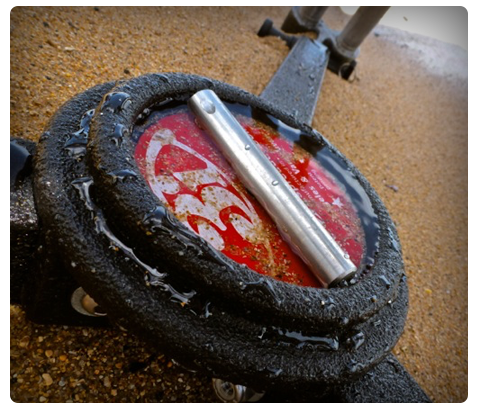 IT IS DIFFICULT TO CLEAN AND LUBE ON SET OR ON THE TRUCK ?
The 3iSpreader has 3 sleeved legs ( 6 in total ), 3 pivoting pins in the center puck, one T-handle, 3 T-pins and 3 button spring pins. Everything is 6061 aluminum, brass, stainless steel, rubber, zinc plate or plastic. So … you will need a bucket of soapy water and a hose. Just spray out all of the sand and salt, lather, rinse, repeat and then dry the fully extended legs. The square tube design has generous clearance for sand and debris to filter out quickly.,

Once dry, spray the legs, tight fittings, T-pins and especially the button spring pin with Tri-Flow or Boeshield T-9 and go back to work.

This is the quickest method without disassembly. My crew would follow this routine every night in Puerto Rico, 4 spreaders in 20 minutes. Like doing the dishes.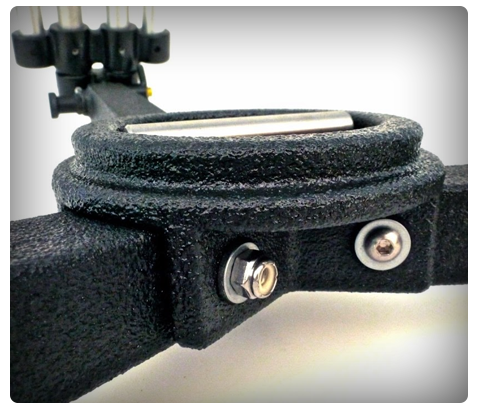 HOW OFTEN SHOULD I SERVICE THE SPREADER THOROUGHLY ?
The interval for servicing really depends on the conditions and length of time spent in those conditions. Shooting in a city will be much easier on the 3iSpreader than shooting in the desert or swamp. Either way, the time to break it down completely clean, lubricate and reassemble is only about half an hour.

The 3iSpreader comes apart in about 5 minutes. The six legs ( three inner, three outer ), the center puck and T-handle plus 3 button spring pins all unbolt and you can service each one separately. The bare aluminum can be smoothed with 60 grit sandpaper. The stainless steel button spring pins - the only precision moving parts - can be sprayed heavily or soaked in lube for 5 minutes. Spray lube on all of the bolts as well as the T-bolts . All of the parts can be washed with soap and water and, once totally dry, reassembled.
CAN I REPAIR ANY DAMAGE TO THE LINE-X COATING ?
The 3iSpreader was designed to spend all of it's time working in the dirt. If it were anodized or powder coated , repairing the outer coating would involve sandblasting, an acid bath, masking and an expensive spray paint job. ( that is why tripods usually look so wrecked )

The 3iSpreader is sealed with LINE-X which is essentially a truck bed liner and that same spray - in an aerosol can - is available at any hardware or auto parts store.

Just sand lightly where needed, clean with soap and water ( no lube this time ), dry completely and spray wherever it is needed. You can keep it assembled and just mask the appropriate parts or spray the legs individually when you disassemble the 3iSpreader for service.

Either way, you can maintain the look and durability of the 3iSpreader for pennies and not hundreds of dollars.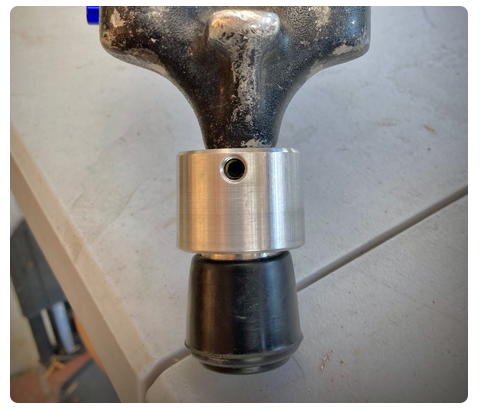 DO I NEED SPECIAL REPLACEMENT PARTS ?
The 3iSpreader was designed with the local hardware store as the common denominator. Other than the 3iSpud and the button spring pin, every nut and bolt is American gauge and readily available. Here are the specs :


T-handle for center puck 5/16" x 1 1/2" socket cap screw
Outer leg guide pin 10-24 x 1/2" machine screw
3iSpud connector 5/16" - 18 x 1 1/2" flat head Phillips countersunk machine screw
3iSpud connector washer 3/8 " split lock washer
Outer leg to puck 1/4"-20 x 2 1/2" socket button head bolt
Outer leg to puck/Outer leg to guide pin #14 bonded sealing washer
Clevis pin to tripod ear 1/2" x 1 1/2" stainless steel nut & bolt
Rubber tips 1" Shepherd # 3205 rubber leg tip
Quick release T-pins Vlier 1/2 " x 1 " QR ball lock pins
For replacement 3iSpuds and center puck T-handles : support@3iSpreader.com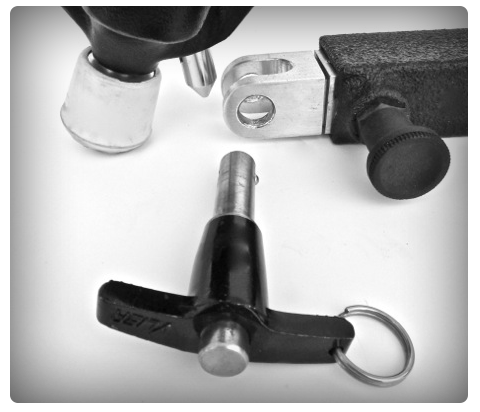 HOW DO I FIT A 3iSPREADER ONTO A TRIPOD ?
The best way to attach a 3iSpreader is as follows :

(1) Turn the tripod upside down - spikes pointing up.
(2) Use a set of vice grips ( with the jaws taped to prevent scratching ) and slowly unscrew the spikes. You may need some thread lube and a bit of force.
(3) Spray air into the threads and clean them out with acetone or denatured alcohol. Use a Q tip to swab any possible metal fragments or dissolved Loctite.
(4) Thread the 3iSpuds into the same holes using a Phillips screwdriver. Do NOT forget the lock washer. Tighten firmly.
(5) Slide on the rubber tips. They will fit tightly over the ridges so slowly rotate the rubber to seat it snugly. NOTE - If the spud ever feels loose, remove the rubber tip first and directly tighten the spud with a screwdriver. Then replace the tip.
(6) Attach the 3iSpreader with the T-pins into the holes in each flange or 'ear'. Remember to turn the spreader upside down to match the inverted legs. NOTE - The 1/2" hole is in a very rough casting that is often not a precise dimension. If the T-pin ( or 1/2" bolt ) has trouble sliding through that hole, you can open up the gap with a rat tail file or burr it open with a 1/2" drill bit on a screw gun. (7) Fold the 3iSpreader inside the legs or open them up and start shooting.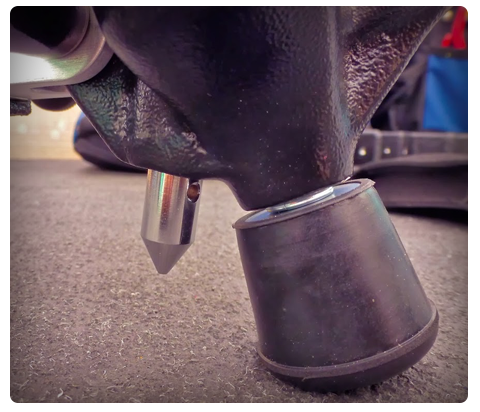 DO THE RUBBER TIPS WEAR OUT ?
If you work on concrete and asphalt and slide or drag the legs into position a lot, the rubber tips will get worn. You can rotate the flat spots away from contact with the ground or just replace them as needed. They are a very cost effective expendable - $2.49 for a set of 4 at Lowes or $12.99 for a pack of 40 on Amazon.

When shooting back and forth from exterior to interior, my crew carries two sets of rubber tips - black for outside and white for inside. They cost the same and changing is a matter of pulling 3 tips off, a quick blast of air and 3 clean tips go on. No hassles with locations. No waiting for layout boards or mats. And no scratches indoors.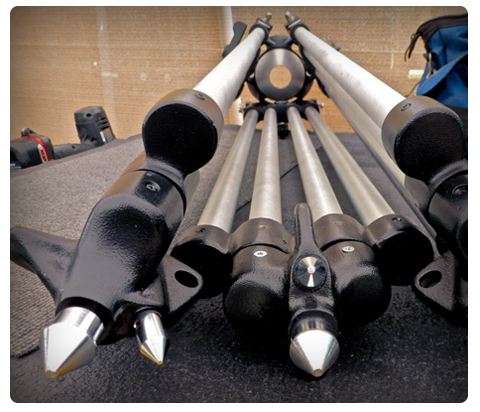 DO I HAVE TO REMOVE THE SPIKES ?
The 3iSpreader is compatible with any metal tubular tripod even if the spikes are left intact. The functions of calibrated spreading, stability and folding are exactly the same. If you are shooting only outdoors, perhaps the rubber tips would not be a necessity but all of the other features of the 3iSpreader system would be incompatible.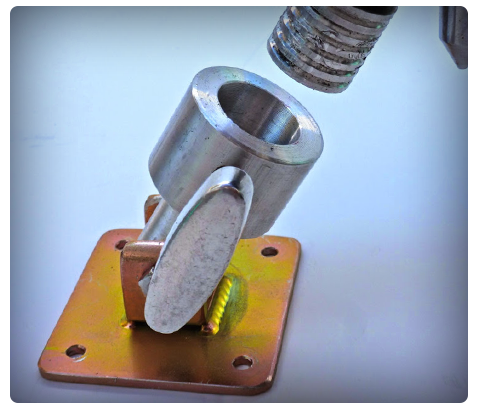 WHAT EXACTLY IS THE 3iSPREADER SYSTEM ?
Based on the standard dimensions of the 3iSpud, the 3iSpreader System allows a large number of accessories to connect to the tripod as well as support and secure it. The key point of contact is the ' SPUD TO GRIP connector ' - the STG.

Instead of grip chain wrapped around the legs, the STG receives the 3iSpud into a locking collar that pivots on a flat base. All aluminum and nickel-plated steel. Four precision holes … four screws … ready ! No more jumbled loops of chain, gouged tripods and screw guns drilling blindly into plywood. The STG allows the tripod to have a mounting point that can be preset and also move while the tripod is elsewhere shooting. And if the legs need raising or adjusting, the STG pivots in place. No need to unscrew and re-screw the chain to keep it tight.
HOW CAN I MAKE USE OF THE STG SYSTEM ?
We listened to AC's and operators and designed a number of feet and pads - round, square, rectangular, hexagonal - with padded bottoms for expensive wood or tile floors and 'glide sliders' for carpets and rugs. What did the crews request ? - a way to slide the tripod on different floor surfaces because sometimes the rubber tips were too stable .

Too stable … okay, whatever you need. Let us know. We had a request from an AC in Chicago in the winter for a pad that slid better on ice. So we made them and they slid on the ice, as promised. Just let us know…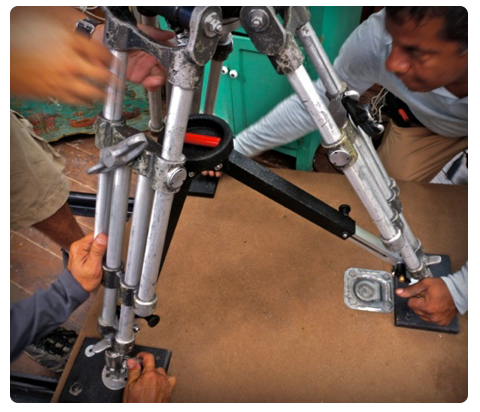 HOW CAN THE GRIP DEPARTMENT WORK WITH THE STG SYSTEM ?
The 3iSpreader is the mechanical interface between the camera and grip departments - between the world of pixels and precision and the world of hammers and hemp rope.

Just like gobo heads and C-stands and Cardellini and Cheeseboro clamps, the grips now have dependable standardized connection for tripods and the expensive cameras that they support.

They can quickly and securely mount the tripod on plywood, a western dolly, a scaffold platform, a deck on a rooftop or balcony -anywhere that a wood base is needed but extra weight ( like sand bags or shot bags ) is a disadvantage. The usual grip mantra - BTSOOI - Bag The S#@% Out Of It - is now a thing of the past.

If sand bags ARE requested, the STG connectors can be screwed into pancakes or cribbing to offer a larger footprint for piling on bags instead of just 3 points on the legs or spreader.

The STG connectors can also be put in place on a skateboard dolly. Now the tripod can be quickly moved, replaced or changed to other size legs without any grip chain/ screw gun down time.

Need to adjust ? Four screws per leg. Done. Precise and accurate every time. Need to pinch the legs on a narrow doorway dolly ? The 3iSpreader will fold into any geometric configuration and the STG connectors will lock it into place. No mountains of sandbags and harnesses of chain.

Since the 3iSpud is a standard size, any 3/4" fitting ( Kee Klamp, Nu Rail, Speedrail ) will connect to it, providing the grip department the perfect opportunity to engage in their favorite activity : making rigs out of pipes. ( especially with upsize conversions to the preferred 1 1/4" common size ) This simple shift from spikes to spuds opens the door for endless variations of quick and reliable grip connections.
WHERE IS THE 3iSPREADER MADE ?
The 3iSpreader is manufactured in both Canada and the United States. All of the CNC and aluminum fabrication is done in Chilliwack British Columbia Canada by Ray Irwin and the LINE-X coating, assembly and packaging is done in Studio City, California USA by Matt and Mark Irwin. New 3iSpreader and STG orders are delivered from both sides of the border.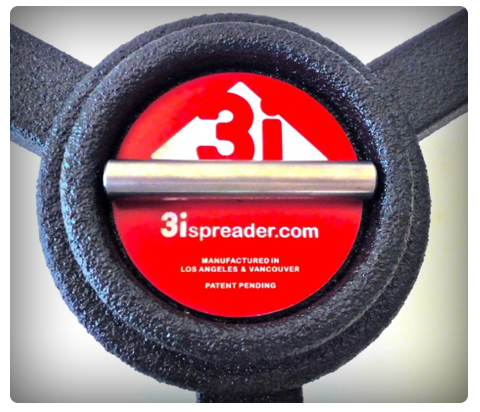 HOW MUCH DOES A 3iSPREADER COST ?
The full 3iSpreader kit - spreader, 3 x 3iSpuds, 3 x rubber tips, 3 x quick release T-bolts, machine screws and lock washers - comes in a cordura 3i insignia set bag and sells for USD $599.

The volume discount is as follows :
2 x 3iSpreader kits USD $579 each
3 x 3iSpreader kits USD $559 each
4 x 3iSpreader kits USD $539 each
5 x 3iSpreader kits USD $519 each
6 x 3iSpreader kits or more USD $509 each
STG connector USD $24 each
3iSpud USD $18 ( set of 3 )
T-pin USD $27 each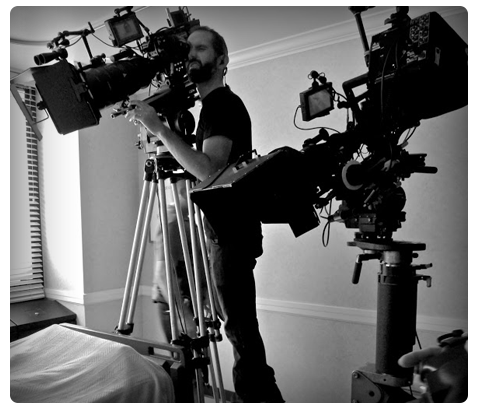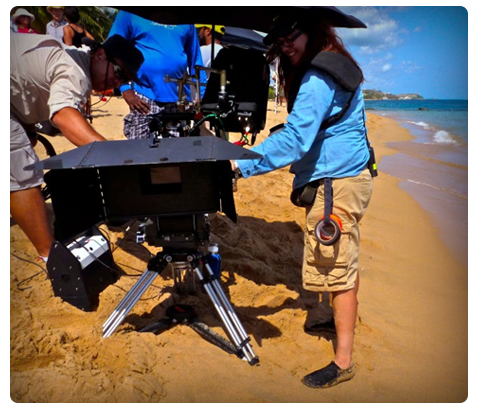 WHAT SHOWS HAVE USED THE 3iSPREADER ?
As of 2014, the 3iSpreader is owned and rented by Panavision ( Woodland Hills ) Sim Digital ( USA & Canada ) and PJGaffers ( San Juan Puerto Rico ). They have supported a wide variety of productions such as :

CROSSBONES - NBC Shot in Puerto Rico by Christopher Baffa, it put cameras in the sand and salt for months.

FARGO - FX Network Shot in Alberta, Canada, by Dana Gonzales and Matthew J. Lloyd, it put cameras in the snow and mud for months.

HELL ON WHEELS - AMC Also shot in Alberta, Canada by Marvin V. Rush, Thomas Burstyn and Elliot Davis, it has had cameras in the worst terrain imaginable. Four seasons of rain, wind, dust, dirt and clay-mud.

FALLING SKIES - Dreamworks & TNT Shot in Vancouver and Toronto by Nathaniel Goodman, Christopher Faloona and Glen Winter. Five seasons following survivors of an alien attack through a barren wasteland. Lots of nights … lots of rain … lots of fun.

TEEN BEACH MOVIE and MAKING WAVES Disney Channel Shot in Puerto Rico by Mark Irwin. A teenage surf musical - the original and sequel. These films have been test runs for shooting in extreme sand and surf conditions. Many prototype 3iSpreaders versions. Many lessons learned. Refinements made. Mission accomplished.

KLONDIKE - Discovery Channel Shot in the Rockies by Mike Eley. More snow and freezing locations, this time in the mountains and gold mines.

THE BRIDGE - FX NETWORK Set in Tex-Mex country and shot in Los Angeles by Attila Szalay and David Franco. Inner city, canyons, deserts and the Rio Grande river. Lots of cramped bars and cantinas too.

JURASSIC WORLD - Universal Shot in Kaua'i, Hawaii by John Schwartzman. Months and months in drenching rain forests, muddy fields and rocky cliffs.

THE CHRISTMAS SPIRIT - Hallmark Shot in Lebanon, Ohio by Mark Irwin. A classic holiday story set in historic locations with delicate floors. We shot 100 pages in 15 days - no overtime, no location damage.

All of these shows show the utility of the 3iSpreader, whether on a cliff in Alberta, a jungle in Hawaii, the surf in San Juan or a heritage church in Ohio.

Big budget or small - time is money and saving time is cost effective. Working safer and more efficiently is at the core of the 3iSpreader design philosophy.
WHAT IS SO SPECIAL ABOUT THE 3iSPREADER ANYWAY ?
Here are 14 key reasons to use the 3iSpreader :


(1)

iSpud replacement

- no more spikes. No more scratches.
(2)

Positive lock connection

- T-pins or bolts. No more bungees.
(3)

Above ground profile

- 3 rubber feet. No more scraping.
(4)

Level and flush center plate

- room for batteries off the ground. High and dry.
(5)

Recessed T-handle

- ready when you need it. Out of the way when you don't.
(6)

Calibrated legs

- no more guesswork. Folds up straight at any matched length.
(7)

Stable at all heights and angles

- solid at any offset configuration.
(8)

Streamline design

- no loops of bungee cords in the way.
(9)

LINE-X polyurethane coating

- scratch proof, rustproof, easy to re-coat.
(10)

Robust construction

- 6061 aluminum puck and square tube will not fracture.
(11)

STG connector

- a precise and positive locking mount for any grip demands.
(12)

STG connectors can adapt to sliding or padded feet

- no location damage.
(13)

Speedrail compatible

- immediately fits any pipe on the grip truck.
(14)

Made in North America

- not Europe or Asia. Point of pride and quality control.
IS IT REALLY WORTH THE MONEY ?
Looking at where all the money goes in a camera package, the big money is in the camera then lenses then the head and tripod and finally the spreader. The lowly spreader. The foundation that holds up all of the BIG money.

Cameras have changed. They now carry up to 2 monitors, transmitters, lens motors, hard drives and data for up to 2 hours of running time. It only seems logical to spend a bit more to guarantee a safeguard for this gear plus the day's work. A flimsy spreader holding onto spikes with rubber cords does not seem quite up to the job of safeguarding $250K worth of digital camera, glass and data.

Is it hard to put a price tag on security and peace of mind? No matter how high the budget, there is never enough time and every set up seems to be a mad rush. That is the time when accidents happen but time is money. And yet, money spent wisely saves time and therefore money. So, is it really worth the money?
Yes. Yes it is.
THE SPREADER I USE NOW WORKS OKAY. WHY SHOULD I CHANGE ?
The sole driving force behind change is a desire to make things work better. That is why we don't unfold floppy paper maps to find our way anymore. That is why we don't listen to music recorded on wax cylinders, travel on steam locomotives or use slide rules to perform mathematical equations. We made things work better.

Our cameras no longer use film, we use miniature helicopters as camera platforms and illuminate sets with light emitting diodes. The future is NOW yet somehow we are trapped in a medieval time warp. Metal pipes. Blocks of wood. Bags of sand. Spikes.

Tradition is one thing. Innovation is another. Sandbags and wedges worked in the 12th century and they still do today. But spikes ? Rubber cords ? For a digital motion picture camera ? This is the 21st century !

We can do better. This invention is better. We owe it to ourselves to be part of the same future. Someone named Heraclitus once said " The only constant is change ". That was in 535 BC. So… why should you change ? Maybe just to catch up to Heraclitus.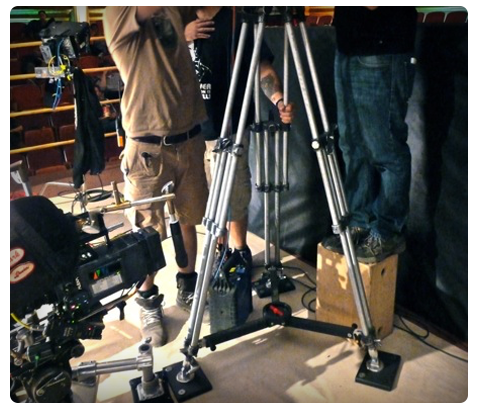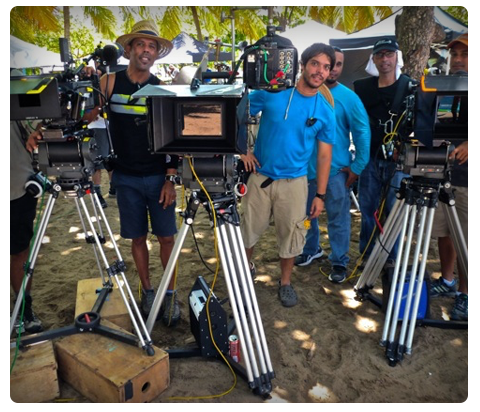 BUT, THIS IS JUST A SPREADER. WHY IS IT SO IMPORTANT ?
The importance of the 3iSpreader is the same as the values in all film equipment. We count on our gear to not only perform as promised but to keep that promise for every setup in every location on every shooting day. We never know if the EXT BEACH DAY will ask us to scramble out of the rising tide or if the EXT ALLEY NIGHT will end up on a shaky fire escape or if the EXT RIVERBANK SUNSET will have us chasing the light and hustling gear on or off a bridge. We, as film technicians, must rely on the best gear that is on the market. To work safely and to make the day. Every day.

We believe that the 3iSpreader system keeps that promise.The difference between reliability and liability is our 3iSpreader.